Dr. Wouter Sanderse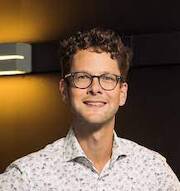 Position
Assistant Professor of Education
Biography
After studying Business Communication and Philosophy, I received my PhD in 2012 on the relevance of Aristotelian ethics for moral education in education. After that, I worked for eight years as a researcher on Teachers' Professional Ethics at Fontys Universities of Applied Sciences. I combined this position with teaching and research appointments at various universities, including the Jubilee for Character and Virtues in Birmingham, England. From September 2018, I work as an assistant professor of Education at the University of Humanistic Studies, where I focus on philosophical questions concerning education and upbringing, specifically on the (character) formation of children and adolescents and on the ethics of professionals.
Research
Areas of interest: professional ethics (of teachers), virtue ethics, moral development and education, role modelling, Socratic dialogue.

Between September 2021 and April 2023, I led the research and development project "Exemplary Bildung in vmbo'. More information can be found here.
Publications
Books (written or edited)


Some recent academic papers:
Sanderse, W. (Early View). Adolescents' moral self-cultivation through emulation: Implications for modelling in moral education. Journal of Moral Education.

Sanderse, W. (forthcoming). Should teachers use Platonic or Aristotelian dialogues for the moral education of young people? Journal of Philosophy of Education. DOI: 10.1093/jopedu/qhad045.
Sanderse, W. (2021). Vocational education and Bildung: A marriage or divorce. Journal of Vocational Education and Training. doi.org/10.1080/13636820.2021.2015714

Stekelenburg, L., C. Smerecnik, Sanderse, W. & Ruyter, D. de (2023).How do students use their ethical compasses during intership? An empirical study among students of university of applied sciences. International Journal of Ethics Education 8, 211-240.

Stekelenburg, L, Ruyter, D. de & Sanderse, W. (2021). Equipping students with an ethical compass. What does it mean, and what does it imply? Ethics & Education 16(1), 91-107

Sanderse, W. (2019) Being Prepared to Become a Moral Teacher: UK Teachers' Experiences of Initial Teacher Education. Scandinavian Journal of Educational Research 65(2), 226-239.

Stekelenburg, L., Smerecnik, S., Sanderse, W. & Ruyter, D. de (2020). 'What do you mean by ethical compass?' Bachelor students' ideas about being a moral professional. Empirical Research in Vocational Education and Training 12(1), 1-20.

Sanderse, W. (2020). Does Aristotle believe that habituation is only for children? Journal of Moral Education 49(1), 98-110.
Sanderse, W. & Hijsse, B. (2020). Bildung in het hbo. Opvattingen van docenten over hun taak in de vorming van studenten. Pedagogiek, 40, 23-44.

For an overview of UvH publications, see the Pure research portal.

For a full overview, see
Google Scholar
.
Ancillary activities
Chair of the university's Education Committee