Prof. dr. Patrick Nullens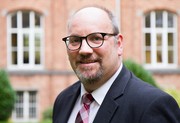 Position
Endowed chair Leadership Ethics and Humanisation of Society
Biography
The special chair is funded by the Goldschmeding Foundation for People, Work and the Economy. This Dutch Foundation works towards an inclusive and sustainable society based on the conviction that a better world is created when people serve each other's interests. To this end, the foundation supports innovative practical projects and excellent scientific research within the themes of the Inclusive Labour Market, the Circular Economy and the Humane Economy.

https://goldschmeding.foundation/

The University for Humanistic Sudies in Utrecht established (in 2020) a chair in leadership ethics and humane economics. In doing so, it responds to a widely felt need. In a society that is mainly focused on efficiency, profit maximization, pragmatic solutions and short-term success, this chair aims to contribute to an alternative leadership model and the development of a people-oriented organizational culture and economy.

Patrick Nullens is a theologian and ethicist specializing in leadership ethics. He is one of the co-founders of the Institute for Leadership and Social Ethics of the Evangelical Theological Faculty in Leuven, a Belgian university of which he was also rector for many years.

Through the chair, the professor wants to focus on the development of an alternative leadership model, for the benefit of a people-oriented organizational culture and economy. Central is authentic leadership and the ethics of responsibility.