International Chaplaincy Research Autumnschool (October, November)

After a successful first edition, the second International Chaplaincy Research Autumnschool will be organized this Fall. The Autumnschool provides participants with an introduction to important examples of existing chaplaincy-related research, the research process and various research methods. It prepares chaplains to develop the skills necessary to conduct simple but important research and quality improvement projects. Furthermore, participants will begin building a network of both early-career and established chaplains for future collaborations.
The Autumnschool will be held online and will consist of three sessions: an afternoon session on October 26th, a morning session on October 29th, and an evening session on November 4th 2021.
Register now
Programme

October 26 – Tuesday: Introduction and research methods
14.00-14.30 CEST Welcome, overview, introductions (Anne Vandenhoeck)
14.30-15.30 Presentation 1: Overview of chaplaincy research (Anne Vandenhoeck, Daniel Nuzum)
15.30-16.00 Break
16.00-17.30 Presentation 2: Qualitative and Quantitative research methods (Anne Vandenhoeck, Daniel Nuzum)
October 29 – Friday: Research and its context
9.00-10.30 CEST Presentation 3: The context of research (Gaby Jacobs, Erik Olsman)

10.30-11.00 Break
11.00-12.30 Journal club (Annelieke Damen)
12.30-… Optional online lunch together
November 4 – Thursday: Research examples
19.00-20.30 CEST Presentation 4: Two examples of qualitative and quantitative research (Traugott Roser, Renske Kruizinga)

20.30-21.00 Break
21.00-21.45 Research laboratory (Annelieke Damen)
21.45-22.30 Closing session (Anne Vandenhoeck)
Lead faculty
Prof. dr. Gaby Jacobs, Prof. dr. Anne Vandenhoeck,​ Prof. dr. Traugott Roser, Dr. Daniel Nuzum, Dr. Erik Olsman, Dr. Renske Kruizinga and Annelieke Damen.
For whom
Participants must be working or otherwise engaged as a chaplain, or providing consultation to chaplains. Applicants should send a short statement of interest (including relevant research experience and learning goals for the summerschool) and resume.
Fee
Zone A* countries €150, zone B** countries €75. Reduced fees are available upon request.
Contact
Annelieke Damen ( a.damen@uvh.nl).
Registration
Register now
Interested in participant experiences of the first edition? See pastoralezorg.be/page/events/#summerschool.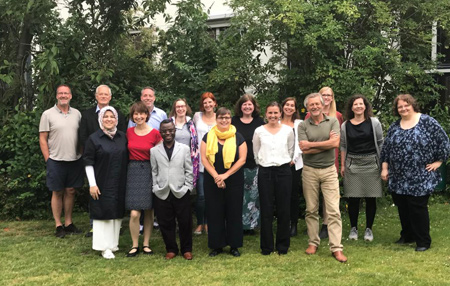 *Zone A countries: Australia, Austria, Bahamas, Bahrain, Belgium, Brunei, Canada, China/Hong Kong, China/Macao, Cyprus, Denmark, Finland, France, Germany, Greece, Iceland, Ireland, Israel, Italy, Japan, Kuwait, Liechtenstein, Luxembourg, Monaco, Netherlands, New Zealand, Norway, Portugal, Qatar, San Marino, Saudi Arabia, Singapore, Slovenia, South Korea, Spain, Sweden, Switzerland, Taiwan, United Kingdom, UK/Bermuda, UK/British Virgin Islands, UK/Cayman, UK/England, UK/Gibraltar, UK/Falkland, UK/North Ireland, UK/Scotland, UK/Wales, United Arab Emirates, USA, USA/Virgin Islands.
**Zone B countries: Algeria, Angola, Antigua & Barbuda, Argentina, Azerbaijan, Barbados, Belize, Botswana, Brazil, Bulgaria, Chile, Cook Islands (New Zealand), Costa Rica, Croatia, Czech Republic, Dominica, Dominican Republic, Equatorial Guinea, Estonia, France/French Guinea, France/French Polynesia, France/Guadeloupe, France/Martinique, France/New Caledonia, France/Reunion, France/St. Pierre & Miquelon, Gabon, Grenada, Hungary, Jamaica, Kazakhstan, Latvia, Lebanon, Libya, Lithuania, Malaysia, Malta, Mauritius, Mexico, Micronesia (USA), Nauru Neth. Antilles, Oman, Panama, Peru, Poland, Romania, Russia, Seychelles, Slovakia, South Africa, St. Kitts & Nevis, St. Lucia, St. Vincent & the Grenadines, Thailand, Trinidad & Tobago,Turkey, Turkmenistan, UK/Anguilla, UK/Montserrat, UK/Saint Helena, UK/Turks and Caicos, Uruguay, USA/American Samoa, USA/Guam, USA/Northern Marianas, USA/Palau, USA/Puerto Rico, Venezuela.
After a successful first edition, the second International Chaplaincy Research Autumnschool will be organized this fall.