30th Dies Natalis: The Art of Listening and Deaccelerating our Way of Life (29 January 2019)

On Tuesday 29 January 2019, the University of Humanistic Studies will celebrate its sixth lustrum with the Dies Natalis, The Art of Listening and Deaccelerating our Way of Life. As part of the proceedings, honorary doctorates will be conferred on three renowned scholars who are each a major source of inspiration for the university's research and education programmes: George Fitchett, Philip Kitcher and Hartmut Rosa.
Journalist and columnist Sheila Sitalsing will deliver the afternoon's keynote address.
(Photo: Els Zweerink)
Register (on our Dutch website)
Programme
Place: Auditorium of the University Hall (Academiegebouw) of Utrecht University, Domplein 29, Utrecht
Registration is mandatory.
14.30 Reception with coffee and tea
15.00 Welcome by Professor Gerty Lensvelt-Mulders, Rector Magnificus
Keynote address by Sheila Sitalsing, journalist and columnist
Conferral of the honorary doctorates on Professor George Fitchett, Professor Philip Kitcher and Professor Hartmut Rosa, with brief introductions by students and alumni.
Music by David Visser.

17.00 Reception
George Fitchett
Professor and head of the chaplaincy research unit of the Department of Religion, Health & Human Values at Rush University in Chicago
George Fitchett is a pioneer in the field of chaplaincy research in the United States. With many years of experience as a chaplain, trainer and supervisor, he is one of the most prominent researchers in the field. Fitchett has received numerous awards over the course of his academic career, and the many projects in which he served as principal investigator demonstrate his immense contribution to developing research in chaplaincy and to studying religion/spirituality and health care generally. He is also the founder of Transforming Chaplaincy – an international research institute on chaplaincy – and he has put chaplaincy on the map nationally by winning a grant from the National Institute of Health for research into the profession.
Philip Kitcher
John Dewey Professor of Philosophy at the Columbia University in New York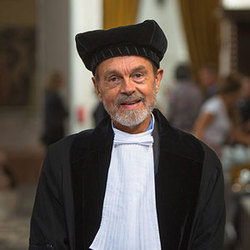 Philip Kitcher is a philosopher with a broad orientation in both research and education, who is well versed in other scientific disciplines as well, particularly in biology. He has for instance performed research in collaboration with Frans de Waal. His work field includes philosophy of science and the philosophy of biology. He is specifically interested in the ethical and political constraints of scientific research, in the development and history of altruism and morality, and in the purported conflict between science and religion. With an extensive publication list, Kitcher is a leading scholar and affiliated with one of the top universities in the United States.
Hartmut Rosa
Professor at the Friedrich Schiller University of Jena and director of the renowned Max-Weber-Kolleg of the University of Erfurt.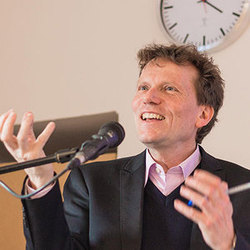 Hartmut Rosa is one of the most prominent intellectuals of today. Carrying on in the tradition of phenomenology and critical theory, he analyses processes of humanisation and dehumanisation in contemporary society. Rosa offers an intriguing interpretation of our society by describing it as subject to social acceleration. Practices that cannot or can hardly accelerate, such as health care and democracy, appear lethargic by contrast. According to his analysis, acceleration leads to alienation. Introducing the concept of resonance, Rosa aims to offer concrete proposals for new forms of organisation in a post-capitalist society. His work has had a significant impact on a wide range of research fields, from education, Bildung and health care to the economy and sustainability. His work has been translated into numerous languages and has won various awards. Rosa is highly esteemed by sociologists and philosophers.
Download invitation
Symposium
The day after the Dies Natalis, on Wednesday 30 January, a symposium will be held in the building of the University of Humanistic Studies, with contributions by the three honorary doctors.