Benchmarks and data
elow is a comparison of the Gender Equality Index Score of the Netherlands with Europe, followed by a comparison of the personnel figures of the University for Humanistics with figures on a national level. More women than men work at the University for Humanistics, also if you have a look at the higher non scientific and scientific staff.
European - Dutch comparison

Gender Equality Index Score for the Netherlands, 2021
Netherlands ranks third place for gender equality with a score of 75,9, behind Sweden en Denmark.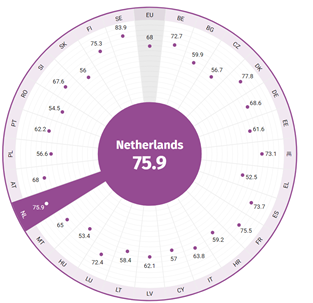 Gender Equality Index Indicators Work and Knowledge, 2021



See for more information on Gender in Research the website of the European Institute for Gender Equality.

Dutch benchmark
University of Humanistic Studies
Composition of work force (scientific and non-scientific staff), men/women ratio in %

2017: men 35,3%, women 64,7%
2018: men 35,8 %, women 64,2%
2019: men 36,9%, women 63,1 %
2020: men 37,7%, women 62,3%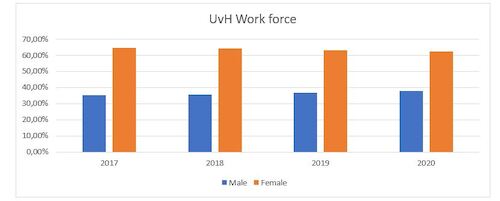 National workforce
Universities in the Netherlands, reported data (WOPI cijfers), men/women ratio in %:
2017: men 55,7%, women 44,3%
2018: men 53,2 %, women 46,8%
2019: men 52,7%, women 47.3 %
2020: men 52%, women 48%

Dutch Network of Women Professors
The Dutch Network of Women Professors (Landelijk Netwerk Vrouwelijke Hoogleraren, LNVH) aims to promote and sustain equal representation of women in academia, works towards the betterment of the position of women of all backgrounds and pushes for an inclusive and safe academic community..
At the end of 2020, the average percentage of women full professors was 25.7%. This translates to a growth rate of 1.5 percentage point relative to the end of 2019, when the percentage was 24.2%. It also means that, for the first time in the history of the Netherlands, one in every four full professors is a woman: a milestone.
At the end of 2020, 9 full professors were employed at the University of Humanistic Studies: 7 women and 2 men. This amounted to a total of 8 FTE: 6 FTE women and 2 FTE men. The University of Humanistic Studies had 75% women full professors (in FTEs)
(Source:
Quote from the Women Professors Monitor 2021, page 7)
Our university compared to European and national benchmarks for gender equality.