Drs Iris Wierstra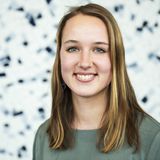 Functie
Onderzoeker
Researcher
Research
Op dit moment werkt Iris voor de Universiteit voor Humanistiek aan een actieonderzoek naar aandacht voor zingeving en levensovertuiging in de zorg. Dit onderzoek wordt uitgevoerd binnen Rivas Zorggroep. Het doel van dit onderzoek is om een duurzame verandering te bewerkstelligen in de zorg waarbij de aandacht voor zingeving gedeelde verantwoordelijkheid wordt van alle zorgverleners en waarbij er een helder profiel van geestelijke verzorging is die zichtbaar en herkenbaar is in de organisatie. Naast dit onderzoek werkt zij als onderzoeker voor Tilburg School of Catholic Theology (Universiteit van Tilburg) waarbij zij meewerkt aan het ontwerpen, implementeren en toetsen van een interventie voor geestelijk verzorgers in de eerstelijns, palliatieve zorg.

Tijdens haar studie waren haar onderzoeken gericht op zingeving en religie in multiculturele en multireligieuze samenlevingen. Zo deed zij haar masteronderzoek naar de geleefde religie onder vluchtelingen van diverse achtergronden in Nederland en hoe deze geleefde religie een rol speelt in het integratieproces en gevoel van thuiszijn.


Research

Currently, Iris works for the University of Humanistic Studies on an action research about the attention for meaning in health care. She conducts this research for Rivas Zorggroep. The purpose of this research is to achieve a lasting change in healthcare in which the attention for meaning becomes a shared responsibility of all caregivers and in which there is a clear profile of spiritual caregivers/counsellors that is visible and identifiable in the organisation. Besides this research, she works as a researcher for Tilburg School of Catholic Theology (Tilburg University). Here she works on designing, implementing and testing an intervention for spiritual caregivers in the first line, palliative care.

During her studies, her research was about religion and meaning in multicultural and multireligious settings/societies. Her master research was about the lived religion among refugees from diverse backgrounds in the Netherlands and how their lived religion supports the integration process and feeling of home and belonging.


Selection of publications