Dr. Yvonne Leeman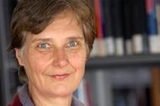 Position
Universitair Hoofddocent Educatie, in het bijzonder de beroepsidentiteitsontwikkeling van leraren en andere educatieve professionals
Research
Lopende onderzoeksprojecten: 
Begeleiding van promotie-trajecten naar:  het samenwerken van leraren en ouders aan opvoeding in het basisonderwijs; pedagogische idealen van studenten in lerarenopleidingen; humanistisch vormingsonderwijs op de basisschool; presentie in het voortgezet onderwijs. 
Daarnaast participeert zij in een Internationaal project in het kader van EERA naar de interculturele professionaliteit van onderwijswerkers en in de kring lectoren 'normatieve professionalisering' die binnen Waardenwerk actief zijn. 



Selection of publications
 

Leeman, Y., Nieveen, N., De Beer, F. & Van der Steen, J. (2020) Teachers as curriculum-makers: the case of citizenship education in Dutch schools. The Curriculum Journal , 2020 DOI: 10.1002/curj.21

Leeman, Y.A.M. & Volman, M. (2019). Citizenship in prevocational education: Professional pride as a source. Education, Citizenship and Social Justice. doi:10.1177/1746197919883252

Leeman, Y.A.M. & Koeven, E. van (2018). New immigrants. An incentive for intercultural education? Education Inquiry, 10, 189-207. 

Leeman, Y. (2013) De beknelde professionele ruimte van leraren. In Ewijk, H. van & Kunneman, H. (red.) 297-312. Praktijken van normatieve professionalisering. Amsterdam: SWP.

Oers, B. van, Leeman, Y. & Volman, M. (red). (2009). Burgerschapsvorming en identiteitsontwikkeling. Een bijdrage aan pedagogische kwaliteit in het onderwijs. Assen: van Gorcum.
 
Leeman, Y. (2008). Education and diversity in the Netherlands, European Educational Research Journal 7(1), 50-59. www.wwwords.eu/EERJ

Leeman, Y., Wardekker, W. & Majoor, D. (2007) Pedagogische kwaliteit op de kaart . Baarn: HBUitgevers. 

Leeman, Y. & Reid, C. (2006) Multi/intercultural education in Australia and the Netherlands. Compare 36(1), 57-72.

Leeman, Y. (1994) Samen Jong. Nederlandse jongeren en lessen over inter-etnisch samenleven en discriminatie. Van Arkel, Utrecht, 1994 (dissertatie)

Bekijk de wetenschappelijke publicaties
Bekijk de vak- en populariserende publicaties




Ancillary activities
Actueel: 
Convenor Network Social Justice and Intercultural Education of ECER/EERA.
Member of the editorial board of Intercultural Education (Routledge Journal).
Voormalig:
    Lector Windesheim. Lectoraat: Pedagogische kwaliteit van het Onderwijs.
    Lid redactie van Pedagogiek