Dr. Yvonne Leeman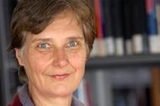 Position
Universitair Hoofddocent Educatie, in het bijzonder de beroepsidentiteitsontwikkeling van leraren en andere educatieve professionals
Research
Lopende onderzoeksprojecten:
Een evaluatie-onderzoek naar de ervaringen van leraren en schoolleiders met de uitwisseling van leerlingen tussen vijf witte en vijf zwarte basisscholen in Amsterdam. Dit onderzoek vindt plaats op basis van een opdracht van de organisatie Welkom in mijn wijk, die de scholierenuitwisseling organiseert. Aan de evaluatie is een onderzoek gekoppeld naar de beroepsidentiteit van leraren over opvoeden tot pluriform samenleven.
Selection of publications
Oers, B. van, Leeman, Y. & Volman, M. (red). (2009). Burgerschapsvorming en identiteitsontwikkeling. Een bijdrage aan pedagogische kwaliteit in het onderwijs. Assen: van Gorcum.

Leeman, Y. (2008). Education and diversity in the Netherlands, European Educational Research Journal 7(1), 50-59. www.wwwords.eu/EERJ

Bhatti, G., Gaine, C., Gobbo, F. & Leeman, Y. (eds) (2007). Social justice and intercultural education an open-ended dialogue. Stoke on Trent UK/ Sterling USA: Trentham Books. (213 pag.) ISBN-13: 978 1 85856 403 6

Leeman, Y., Wardekker, W. & Majoor, D. (2007) Pedagogische kwaliteit op de kaart Baarn: HBUitgevers.(95 pag.) ISBN 9789055745678

Leeman, Y. (1994) Samen Jong. Nederlandse jongeren en lessen over inter-etnisch samenleven en discriminatie. Van Arkel, Utrecht, 1994, (271 pag.). (dissertatie)

Bekijk de wetenschappelijke publicaties
Bekijk de vak- en populariserende publicaties

Ancillary activities
Actueel:

Lector Windesheim. Lectoraat: Pedagogische kwaliteit van het Onderwijs.
Link Convenor Network Social Justice and Intercultural Education of EERA
Member of the editorial board. Routledge Journal: Intercultural Education.
Voormalig:
Lid onderwijsvisitatiecommissie Noordelijke leergangen.