Graduate School Lecture by Stacy Clifford Simplican (16th of May)

On 16 May, the academic year's final Graduate School lecture is given by Stacy Clifford Simplican from Vanderbilt University, Nashville, USA. Simplican will deliver a lecture on the topic of her most recent work: the convergence of care and violence and caring for people with intellectual disabilities. Her work takes cues from disability studies and care ethics, as well as from her experiences living with her brother, who has an intellectual disability and an autism spectrum disorder.
Short biography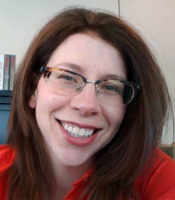 Stacy Clifford Simplican is Senior Lecturer of Women's and Gender Studies at Vanderbilt University, Nashville, USA. She received her PhD in Political Science from Vanderbilt University in 2011. Her book, The Capacity Contract: Intellectual Disability and the Question of Citizenship (2015), analyzes the role of intellectual and developmental disabilities in social contract theory and the disability rights movement.
External academics and students who might be interested in attending Simplican's lecture are also mostly welcome!
Note that Simplican will also be speaking at the
Social Inclusion conference
on 17 May.