Dr. Adrienne de Ruiter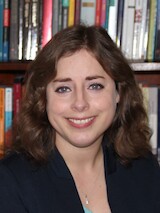 English biography
Adrienne de Ruiter is an ethicist and political philosopher and theorist. She studied Liberal Arts and Sciences and Philosophy at Utrecht University and completed master degrees in Middle East Studies at Leiden University, Conflict Studies and Human Rights at Utrecht University, and Contemporary Philosophy at the École Normale Supérieure in Paris. She conducted doctoral research at the European University Institute in Florence on the issue of dehumanisation of refugees and asylum seekers. After her PhD she taught on global justice, human rights, and ethics of war at the University of Newcastle. As a postdoctoral researcher at the University of Humanistic Studies, she is involved in the project A (care)ethical analysis of COVID-19 policy choices.


Research
Adrienne de Ruiter is an expert in ethics and political philosophy with a particular interest in untangling complex normative issues that have a profound impact on people's lives. Her work is highly interdisciplinary and draws predominantly from analytical and continental philosophy, political theory, social psychology, and sociology.

Selection of publications
Adrienne de Ruiter, "The Distinct Wrong of Deepfakes," Philosophy & Technology (OnlineFirst), 10 June 2021.

Adrienne de Ruiter, "To Be or Not to Be Human: Resolving the Paradox of Dehumanisation," European Journal of Political Theory (OnlineFirst), 12 March 2021.

Adrienne de Ruiter, "Imaging Egypt's Political Transition in (Post-)Revolutionary Street Art: On the Interrelations between Social Media and Graffiti as Media of Communication," Media, Culture & Society 37, no. 4 (2015): 581-601.

Adrienne de Ruiter, "The Political Character of Absolute Enmity: On Schmitt's The Concept of the Political and Theory of the Partisan," Archiv für Rechts und Sozialphilosophie 98, no. 1 (2012): 52-66.