Dr. Niké Wentholt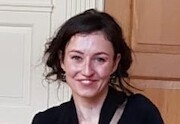 Biography
Niké Wentholt is a postdoc researcher at the University of Humanistic Studies. As part of the Dialogics of Justice-team, she will conduct a socio-legal analysis to explore new ways of thinking about recognition and repair. She closely works together with other researchers from the project (Naomi Ormskerk, Marrit Woutwijk, Obiozo Ukpabi, Nicole Immler), who will study four distinct case studies that examine different institutional contexts for victims' claims for recognition.
She has completed her PhD project at the University of Groningen. Her dissertation was titled: 'Overcoming History, Becoming European? Politics of the Past and EU Accession in Serbia and Bulgaria'.

Her PhD project was fully funded by the Netherlands Organisation for Scientific Research (NWO). It included field research in Bulgaria and Serbia. For the OSCE she designed and conducted a study on the use of history by extremist right-wing and jihadist groups in Serbia.

She holds a Master of Science degree in Russian and East European Studies from the University of Oxford and completed her undergraduate studies in History at the University of Groningen (cum laude).