Honorary doctorates
On the occasion of each lustrum, the University confers honorary doctorates on prominent individuals, both domestic and international, whose work and life have a significant bearing on Humanistic Studies. So far, honorary doctorates have been conferred on:
2019
Prof.dr. George Fitchett
Prof.dr. Philip Kitcher
Prof.dr. Hartmut Rosa
2014
Prof.dr. Amartya Sen
Prof.dr. Joan Tronto
Prof.dr. Carol Ryff
2009
Prof.dr. Frans de Waal
Prof.dr. Sarah Blaffer Hrdy
Prof.dr. Patricia de Martelaere
2004
Prof.dr. Otto Duintjer
Prof.dr. Seyla Benhabib
1999
Prof.dr. Rudi van den Hoofdakker (alias Rutger Kopland)
Prof.dr. Martha Nussbaum
Read more about the honorary graduates below.
On January 29 2019, at the ceremony to mark the 30th Dies Natalis of the University of Humanistic Studies, three honorary doctorates were conferred on: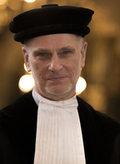 Prof. George Fitchettis a pioneer in the field of chaplaincy research in the United States. With many years of experience as a chaplain, trainer and supervisor, he is one of the most prominent researchers in the field. Fitchett has received numerous awards over the course of his academic career, and the many projects in which he served as principal investigator demonstrate his immense contribution to developing research in chaplaincy and to studying religion/spirituality and health care generally. He is also the founder of Transforming Chaplaincy – an international research institute on chaplaincy – and he has put chaplaincy on the map nationally by winning a grant from the National Institute of Health for research into the profession.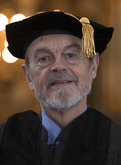 Prof. Philip Kitcher is a philosopher with a broad orientation in both research and education, who is well versed in other scientific disciplines as well, particularly in biology. He has for instance performed research in collaboration with Frans de Waal. His work field includes philosophy of science and the philosophy of biology. He is specifically interested in the ethical and political constraints of scientific research, in the development and history of altruism and morality, and in the purported conflict between science and religion. With an extensive publication list, Kitcher is a leading scholar and affiliated with one of the top universities in the United States.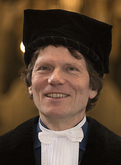 Hartmut Rosa is one of the most prominent intellectuals of today. Carrying on in the tradition of phenomenology and critical theory, he analyses processes of humanisation and dehumanisation in contemporary society. Rosa offers an intriguing interpretation of our society by describing it as subject to social acceleration. Practices that cannot or can hardly accelerate, such as health care and democracy, appear lethargic by contrast. According to his analysis, acceleration leads to alienation. Introducing the concept of resonance, Rosa aims to offer concrete proposals for new forms of organisation in a post-capitalist society. His work has had a significant impact on a wide range of research fields, from education, Bildung and health care to the economy and sustainability. His work has been translated into numerous languages and has won various awards. Rosa is highly esteemed by sociologists and philosophers.

On January 29 2014 at the ceremony to mark the 25th Dies Natalis of the University of Humanistic Studies, three honorary doctorates were conferred on: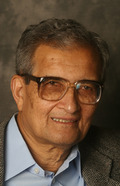 Prof. Amartya Sen (Harvard University) is an internationally renowned intellectual and recipient of the 1998 Nobel Prize in Economics. His collective work has been highly inspirational and relevant to the ongoing development of Humanistic Studies. Sen is characteristically optimistic about the human condition and motivated by deep personal and professional concerns about democracy, justice, poverty and inequality across the world.
His interdisciplinary scholarly work spans many fields in social choice theory, economics, public health, gender studies and moral and political philosophy. He significantly influenced many governments and international organisations, including the United Nations. His well-known Capability Approach focuses on the moral significance of individuals' capability to achieve the kind of lives they have reason to value.

A strong acknowledgment of human diversity is one of the key theoretical driving forces in his work and he believes that normative approaches should acknowledge the full human diversity and include the concerns of marginalised people. Sen supports Enlightenment values such as reason, justice and liberty, but believes that they are part of a common heritage of humanity and resists the idea that these values are necessarily tied to Western thought.



Prof. Carol Ryff (University of Wisconsin) has developed a theory of psychological well-being which comprises elements that are also part of the concept of meaning in life. This theory of well-being is used in a large body of multidisciplinary empirical research on well-being, (bio-psychosocial) health, resilience and optimal aging. An important research project led by Prof. Ryff is MIDUS, a longitudinal study following behavioural, psychological, social and biological aging of U.S. adults and elderly.




Prof.dr. Joan Tronto, Prof. Joan Tronto (University of Minnesota) has developed an ethics of care which tries to remedy some of the shortcomings of well-known ethical theories. Her interdisciplinary concept of care not only refers to health care but conceives of care as a political concept linked to the very core of democracy: caring is construing living together in an ordered way. Her concept of care corrects a gender bias in care theories by stressing the fact that all human beings are both care-givers and care-takers.

On 29 January 2009, at the ceremony to mark the 20th Dies Natalis of the University of Humanistic Studies, three honorary doctorates were conferred on:

Prof. Frans de Waal
Frans de Waal is professor of psychology at Emory University in Atlanta and director of the field station of the Yerkes National Primate Research Center. De Waal gained worldwide acclaim for his research into primate behaviour. He sees our sense of morals, not as a thin layer of varnish hiding a brutish inner nature, but as having deep evolutionary roots.

Prof. Sarah Blaffer Hrdy
Sarah Blaffer Hrdy is a primatologist and anthropologist and emeritus professor at the University of California, Davis. Her work in the field of evolution theory is characterised as multi-disciplinary, inter-disciplinary and trans-disciplinary, and her feminist perspective with concomitant focus on human values makes her work highly relevant to the two central themes of Humanistic Studies: meanings of life and humanisation in human relations, organisations and society at large.

Prof. Patricia de Martelaere
Patricia de Martelaere was a Belgian philosopher and writer and a professor at the University of Leuven. She died in 2009. How she managed to connect philosophy and practical living is directly relevant to the study of meanings in life and humanisation, as pursued at the University of Humanistic Studies. Her approach throws existential aspects of life and death into sharp relief. She demonstrated how the University's pretty motto, 'The most beautiful study is the human being', should not distract us from the pain and discomfort that often afflicts human life.

The University also conferred honorary doctorates at both preceding lustrums – two in 2004 and two in 1999 – on, respectively:

Prof. Otto Duintjer
The University views his work on the intersection of philosophy and spirituality to be of huge social and scientific significance, also given the connection that Duintjer forges between humanism and spirituality. Otto Duintjer (1932) was professor of epistemology and metaphysics at the University of Amsterdam from 1970 to 1987. From 1987 until his retirement in 1997, he held the chair of philosophy and spirituality at the same institution.

Prof. dr. Seyla Benhabib
Seyla Benhabib (Istanbul 1950) is Eugene Meyer Professor of Political Science and Philosophy at Yale University. She previously held positions at Harvard University (1993-2000) and the New School for Social Research (1991-93). In the summer of 2000 Benhabib held the Baruch de Spinoza chair at the University of Amsterdam. She received the honorary doctorate in recognition of her significant contributions to the field of social theory, in particular regarding critical theory and the feminist perspective.

Prof. Rudi van den Hoofdakker (alias Rutger Kopland)
A psychiatrist as well as an acclaimed poet, the honorary doctorate was conferred in recognition of his contributions to formulating human values and the various forms of human knowledge, such as the therapeutic and biological on the one hand (a multidisciplinary approach to the human being), and the importance of poetry on the other. Member of the honorary doctorate committee, Henk Manschot: "Whoever seeks access to the humanity of man, must consult more language games than just the scientific one. It is fascinating to hear both the psychiatrist and the poet's views on the matter."

Prof. Martha Nussbaum
Prof. Martha Nussbaum is professor of ethics and philosophy of law at the University of Chicago. The honorary doctorate was conferred in recognition of her expertise and understanding of the cultural heritage that forms one of the most fertile sources of European humanism. Henk Manschot: "The secret and the attraction of her approach is that she makes themes from the humanities, such as the pursuit of happiness, the quest for 'the good life', fertile ground for the contemporary issues that also concern Humanistic Studies: issues that impinge on the question of what makes a dignified human life."
Woensdag 29 januari 2014 viert de Universiteit voor Humanistiek haar vijfde lustrum met de Dies Natalis 'A meaningful life in a just society'. Tijdens deze plechtigheid worden eredoctoraten uitgereikt aan drie gerenommeerde wetenschappers, die ieder een grote inspiratiebron zijn voor het onderzoek en onderwijs van de universiteit: Nobelprijswinnaar prof. dr. Amartya Sen, prof.dr. Carol Ryff en prof.dr. Joan Tronto.