Summer School Participant Weblog 2013
On July 15th, the 10th International Summer School on Pluralism & Development commenced in Bangalore, India. The 16 participants of this Monsoon (!) School originate from Uganda, India, Indonesia and the Netherlands. The Monsoon School staff requests each of the students to write a blog for this website, to voice their experiences during this intense and meaningful month. This page will be updated (almost) daily, when blog entries from the participants become available. Keep checking back for updates or check our Twitter page.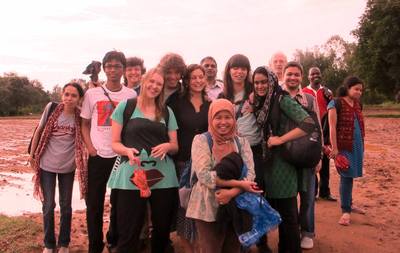 Day 1: Prejudice
By Mira Krozer
"Expressing these thoughts called for reflection to explain some of these narrow-minded opinions that people can have about each other. One question that popped up is why there were not many images about Indonesia and its people in the countries represented in the Monsoon School. The Indonesian participants came to think about the need to express themselves better on a global level."
Day 2: Learning from 4 countries
By Nor Ismah
"The presentations helped me to think about pluralism is an issue in various countries and the way we communicate about differences. Moreover, the participants also shared their experiences and institutional engagement regarding with pluralism issues in their countries. It's very inspiring!"
Day 3: Becoming a minority
By Nor Ismah
"However, things are not going as I expected. I am now a minority Muslim woman in Nagarbhavi, Bangalore. I am not a part of the Muslim majority like in Indonesia. Moreover, Ayesha, one of my Indian friends that I met here explained that most of mosques in India forbid women to go and pray there, only Muslim men who are allowed to do so. "

Day 4: Grappling with the factors responsible for Human Development
By Syed Mohd. Hasnain Rizvi
"We tried to understand the Capability approach through a multi disciplinary dimension with specific reference to Amartya Sen and Martha Nussbaum. After watching a documentary on human development report named "People First" we tried to understand the basis of human development were health, education and income became the most important factors in defining human development. We were constantly grappling between individual and collective – "I am therefore we are or we are therefore I am" was the center point of discussion..."
Day 5: We need wisdom, not just education
By Jette van Ravensteyn
"That seemed to be a common theme, a lack of awareness. Someone mentioned that people need to be educated to be able to take their responsibilities when it comes to the environment. Because when people don't know about these issues, they don't know about the harm they are causing. Our Indonesian teammember spoke about some different problems stemming from a lack of awareness. In Indonesia landpermits are being bought from people who have no clue about the real worth of ´their´ land after which the people, the land and the sea are being exploited by big cooperations from all over the world."
Day 6: We're on our way, our way to Byatha's farm
By Vaneesha Jain
"Before leaving, we were invited for an informal discussion with some village elders. Jagadeesa told us the story of the goddess in whose honour the temple in whose compound we were sitting was built, and this is a story through which the pervasive caste question can be looked at – She was a Brahmin (upper caste) Goddess who fell in love with a man and married him, only to find out much later that he was Dalit (lower caste). In anger she cursed him to be a buffalo in his future lives, whose tongue and ears would be cut off and offered to propitiate her – a practice that is carried out in the present day in the village."
Day 7: Exploring Bangalore
By Sicillia Leiwakabessy
"We passed several mosques and recognize some people who passed us as Muslims thanks to their attire. However, the fact that Muslim women in India are generally not allowed to worship in the mosque became a concern for me. Regardless of the interpretation of religion, or my position as a non-Muslim, it was sad to see the subordination experienced by women."
Day 8: The Parliament of Animals
By Sicillia Leiwakabessy
"In the second challenge, we formed four groups that identified with an animal: the whale, the chimpanzee, the eagle and the cow. We discuss what capabilities allowed these animals to live a dignified life and thereby spoke on behalf of the animals. This parliament of animals gave me the opportunity to see how difficult it is to actually shift the paradigm of anthropocentric to earth-centric."
Day 9: Identity & Pluralism
By Tim Blaauw
"If we could be reborn, with all the choices in the world, what would our identity entail? Which country would one want to be born in, which skin-color is our preference, do we want to be born in a religious or non religious environment, to which class would one want to be born in etc.? We also contemplated shifts in identity between generations? What were the choices our grandparents, our parents and we have to change our identity? Finally we sang our national anthems, which was hilarious."
Day 10: Identity and Social Media
By Syed Mohd. Hasnain Rizvi
"Personally I'm looking into the transition from traditional notions of identity to the contemporary times. I believe the coming of information communication technology has created the whole frame of identity representation to shift. We have seen so many innovations the last two decades giving people new ways and platform to represent themselves and raise their voice. Currently people are living life not at face value but at interface value and are therefore becoming multiple and different compared to previous times."
Day 11: Voices of the day
By Ronald Mulyanti Kitanda
A series of quotes of the day.
Day 12: Weekend
By Karlijn Bunnig
"Every other statue which was part of the outside of the temple had a meaning or story to it. For example there was a statue of a boy kissing a girl who had the face of a donkey. The explanation for this was that 16 year old boys are attracted to any girl, even if they have a donkey's face!"
Day 13: Sanity in the Wildness
By Denis
"The recent political interference that keeps both the Hindu and Islam off the reach of the ownership and management of the shrine was noted as a genuine community concern. In my opinion, however, this poses less spiritual significance since politics and spirituality are essentially incompatible. Drawing from Uganda's experience, about a century ago King Mwanga of famous Buganda Kingdom executed 35 Christian converts, 22 Roman Catholic and 13 Anglicans, with the rage of ending Christianity that challenged his traditional authority."
Day 14: Retrospection
By Mayashree Gharphalia
"Yet in some corner of my mind…I was struggling with the question: is secularism in India a reality or myth? Salman Rushdie was censored out of a literary fair in Jaipur (India) and was threatened with assassination. On the other hand 'Maha Kumbh Mela' a religious fair for the Hindus held every twelve years, is highly subsidized and prayers in public functions are funded. Do these practices "institutionalize" communal conflict?"
By Irsyad Rafsadi
"But this time he is right. Not long after the class begun, I can feel the tsunami hit my head. It is the big puzzles of 'pluralism effect' which Ram deliver that causes the tsunami. He invites us to reflect on ideas, values and practices of pluralism. It is not easy for me because many things that are usually taken for granted now have to be shaken."
Day 17: 'The Most Hardworking Group'
By Irsyad Rafsadi
"In my previous blog, I left one question that is how do we deal with pluralism given the inadequacy of 'the universal'? Ram invited us to engage with the question through three issues: (1) the tension between religion and freedom of expression; (2) the controversy over public manifestation of faith, and; (3) state intervention in religious minority rights."
Day 18: Masterchef - Monsoon School Style
By Vaneesha Jain
"An account of the food prepared as above hides the real story – the utter madness of the preparation process! The Monsooners literally overtook the kitchen and dining hall, furiously chopping, grinding, mixing, washing, cooking, and rushing about with plentiful instructions for their fellow cooks, or with flashing cameras. How Mr. Mohan and the kitchen staff put up with our mayhem is beyond me – that they actually helped us speaks volumes about their patience and tolerance!!"
Day 19: Linking Theory to Practice
By Edwin Edward Kayuki
"Day 19 arrived and the fun was over. We were tasked with developing pluralism tool kits to make meaningful links between selected theories or sets of ideas and the University studies or the practice in our organizations. Each one of us developed and shared case studies based on our country contexts which linked selected pluralism theoretical frameworks encountered in past three weeks to inspire us rethink the social problem (case study). We also designed workshop mechanisms for delivering the tools."
Day 20: Come hungry, leave happy
By Jette van Ravesteyn
"This Monsoon School takes place during the time of Ramadan (/Ramazan as they call it here). This means a lot more than just 40 days of not eating and drinking whilst the sun is up. Apart from it's religious and spiritual dimension, it also means Iftar/ eating after sunset! During the Ramadan, there is a huge Food Festival on Mosque Road in Frazer town, Bangalore. Eating is something people from all backgrounds can enjoy, so on Saturday evening a few of us decided to go and "break the fast" during this Ramadan."
Day 23: Think Twice
By Karlijn Bunnig
"During my project I have been confronted with my own behavior. I noticed that I get extremely pissed off when someone denies rape can happen within a marriage. I think forced sex greatly affects the dignity of the women, also within marriage. But while I was judging everyone who would deny the existence of marital rape, I looked down. I bought the jeans I wore at H&M, a company known for the deprived labor conditions in their factories in Bangladesh."