Day 8: The Parliament of Animals
Today is Henk Manschot' day. The main topic is "The Contradictory Dynamics and Necessary Reconciliation between Human Flourishing and Sustainable Development: Rethinking the Relationship between Ecology, Ethics and Cultural Pluralism" quite a mouthful!

Before starting the session, Caroline Suransky led us to reflect on our trip to Byatha Village two days ago. Although visiting the same village the experience of each participant was different. Jette saw a connection between local knowledge and modern times as cow dung is used for the production of biogas. Edwin's attention was caught when he found a statue of a women representing God. Tim observed that men remain dominant as they were allowed to speak first and Vaneesha became interested in the story of the Goddess cursing her Dalit husband. What struck me was the question of female leadership in the village, although a women of the Dalit community is a so-called panchayat leader, a chair in the village council, I still doubt whether this fact is really a form of empowerment or whether she is merely an icon. Could we assume one of the options as real after just a few hours visit? I'm not sure. However, all participants agreed that the visit to Byata Village was pleasant and are also happy to see that the Dalit community is in a place that allows them to live side by side with other castes.

Now, back to Henk's session. The first thesis that was raised was the issue that human behavior seriously endangers the continued existence of life on earth. Henk asked us to watch a short movie about an Indian woman named Vandana Shiva. I think she was not just talking about food security and food sovereignty but she touches upon a larger issue; human dignity and harmony between humans and the earth. She is right; the question is indeed; how can we combine the two struggles on a global scale?

According to Henk we live in a time where we are confronted with fundamental questions about life and we should ask ourselves how can we move from an anthropocentric cosmology into an earth-centric paradigm? To give some background information we were introduced to some measurements: the Human Development Index and the Ecological Footprints. Discussions around these statistics made me aware of the effect of disregarding the intrinsic value of the earth that causes growing destruction of our natural environment and the growing tensions around basic natural resources.
The second thesis Henk put forward is challenging human interaction with life on earth; 'do we need a new understanding of who we are as human beings?' How can we, both personally and conceptually, develop a new perspective of life on the earth? To discuss these matters we talked about times we feared nature but also feel grateful for our environment. We tried to recognize interdependence between humans and nature and developed an understanding of the relationships that exists between the two as the idea of the planet as a community where we find both hierarchy and co-existence, to expand the notion of dignity also recognizing rights for animals and by acknowledging diversity as a key characteristic of life.

In the second challenge, we formed four groups that identified with an animal: the whale, the chimpanzee, the eagle and the cow. We discuss what capabilities allowed these animals to live a dignified life and thereby spoke on behalf of the animals. This parliament of animals gave me the opportunity to see how difficult it is to actually shift the paradigm of anthropocentric to earth-centric.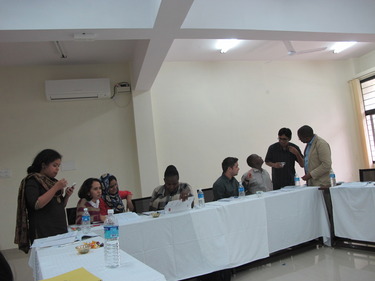 I understand that rethinking and discussing the relationship between ecology and human is complicated, especially when we take economic and political struggles into account. These domains often act as a major scourge that prevents moving towards more sustainable development. Is decreasing our ecological footprint enough and can we change in the same pace as we are now destructing our nature in the name of development? I'm not sure. One thing is sure: We are gifted by the earth, but robbed by our greed.
Sicillia Leiwakabessy is a member of Research Team at Research and Communication Bureau of The Communion of Churches in Indonesia (CCI). CCI's vision is to reflect God's goodness in the midst of a pluralistic society in Indonesia. The research team was formed to prepare/facilitate researchers at the synod level, and map out strategic issues faced by the churches in Indonesia. Recent research carried out is the Church and Politics Post-New Order. Sicillia Leiwakabessy first studied Veterinary Medicine at the University of Gadjah Mada, Yogyakarta and is currently completing her studies in the Department of Sociology at the Open University, Jakarta.