Day 7: Exploring Bangalore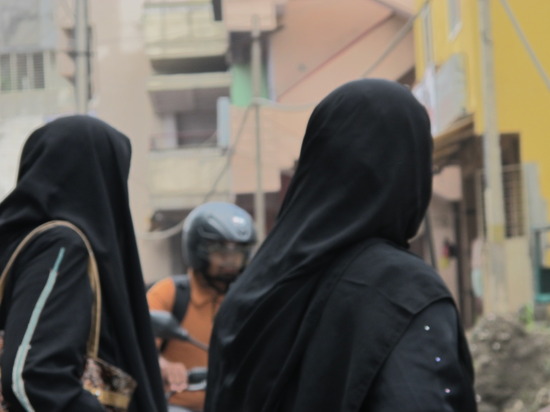 It's Sunday. No classes today. The NLSIU Training Centre is rather quiet. Some of us decided to work in their discussion group, some catch up on reading, and some took the initiative of going to the City Center. Some of my Indonesian friends and me decided to go to Mahatma Gandhi Road. Initially we wanted to use the public bus but because we had to wait too long, we choose instead to go by three-wheeler transportation. After bargaining the fixed prices, we drove to the center of Bangalore using the auto-riksja as they are called in India. Travel time: about 45 minutes. We passed several mosques and recognize some people who passed us as Muslims thanks to their attire. However, the fact that Muslim women in India are generally not allowed to worship in the mosque became a concern for me. Regardless of the interpretation of religion, or my position as a non-Muslim, it was sad to see the subordination experienced by women. Throughout my life I have been great friends with lots of Muslims in Indonesia so I recognize that women have as much desire to greet their Lord no other than men do.
Upon arriving in the city center, we walked down Brigade Road towards Mahatma Gandhi Road and surrounding areas. Unfortunately the city center of Bangalore is not as we expected. We hardly 'see' India here but all the more internationally renowned brands carrying western styles. We found several stores that sell Indian apparel and souvenirs but the shops are small and the price is high. How different from the atmosphere in Malioboro, the shopping centre of Yogyakarta, the city I come from.

Here it's hard to find road signs. Also asking people for the way is not always helpful. People tend to say 'I do not know' when you ask them for directions. Nonetheless, I was comforted to find some stores with a collection of good cheap books. But after that we know we cannot linger around, since its Monsoon season in Bangalore and it will be difficult to find a vehicle to return to our campus in Naagarbhavi when dusk comes and the rains begin.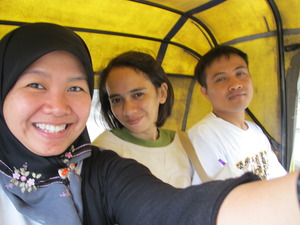 In the middle of my bargaining session with a three-wheeler driver, a middle-aged woman approached us with cupped hand and says: 'hungry, madam!'. What should I do? I do not know. In Indonesia, I was member of a group that campaigned not to give money to beggars, especially to children. Our initiative promoted friendship, helping them to gain access to education and health and to make sure they know their rights as a child in Indonesia. But what about all that in India? This woman may have been a Dalit just like the community we visited in the Byata Village yesterday. In the village this community was empowered, but what is done in her community, I just don't know. I come to realize that the visit yesterday still leaves a lot of questions in my head, questions that may be not answered by single visit.

When we returned to our campus the power is still out at the NLSIU Training Centre. A colleague and I decide to go out and find a merchant who has spread out his wares, clothing, on the sidewalk. The price is cheap, the quality is moderate but my colleague decides to buy souvenirs for her family. Using the limited English available to communicate, we chat with the seller. He introduces himself as a Muslim, and again we were told that here, Muslim women cannot pray in the mosque. They are expected to quietly worship at home. We find out that in fact women not always get adequate access to education and so forth. This is not just the case for Muslim women, as we remember from conversations during our village trip yesterday, caste issues also often place women in a subordinate position regarding access to education and public policy. I know I'm an outsider but from all my experiences so far I have come to believe that priority should be given to women's issues because they are suffering the most from their socially constructed deprived positions.
Sicillia Leiwakabessy is a member of Research Team at Research and Communication Bureau of The Communion of Churches in Indonesia (CCI). CCI's vision is to reflect God's goodness in the midst of a pluralistic society in Indonesia. The research team was formed to prepare/facilitate researchers at the synod level, and map out strategic issues faced by the churches in Indonesia. Recent research carried out is the Church and Politics Post-New Order. Sicillia Leiwakabessy first studied Veterinary Medicine at the University of Gadjah Mada, Yogyakarta and is currently completing her studies in the Department of Sociology at the Open University, Jakarta.