Day 6 & 7: Nice Weekend
There were no classes on Saturday and Sunday, yaayy!!! Most of us got up late and some of us did some laundry or read some readers given. I have had my cough since a week and weather only makes it worse. I have taken some medicine, but it hasn't worked yet. However, I didn't want the cough to become a hinder to enjoy a nice weekend in Bloemfontein.
Saturday
The Festival at the University of Free State campus was very interesting to visit. The festival began last Tuesday and ended on Sunday afternoon. Many stalls sold many kinds of art work, food, jewelry, clothes, etc. There was even a singing competition. People from the town came with their family or friends. They would buy some stuff or just look around, sat and enjoyed a cup of tea or coffee. Everyone seemed so happy in the festival.
As far as I observed, most people who came to the festival were white, Afrikaaner as I might say. There weren't many black people, except the vendors. I didn't know exactly why it would be that way. I mean, this is South Africa, there should be both white and black people in an event. Then I remembered what Maslow stated about Hierarchy of Needs. People will try to fulfill their need of existence when their basic needs have been fulfilled. Leisure such as visiting and enjoying a festival is a need of existence. The excursion last Friday to some housing projects in Bloemfontein showed there is indeed a wide gap between people who are economically capable and incapable. And somehow, it's about the gap between white and black people…
While the recent Harry Potter movie wasn't played in Indonesia, it is now playing in South Africa. So, on Saturday afternoon some of us went to cinema to watch this movie. There was a seating problem. Our seats had been seated by other people. When we asked for our seats, they just said:
"…well, our seats were also seated by other people, so you can just sit anywhere…"
What a discipline! Ok, never mind then, we finally took other seat as well. It's like we were forced to do a same mistake. Fortunately no one came to ask the seats.
In the evening, Dindi, a friend from Jakarta, taught us how to knit. I think knitting is difficult because we have to be patient and concentrate. However, it is fun and we were so anxious to make our own scarf so we can use it in this winter. "Knit fast, die warm," she said.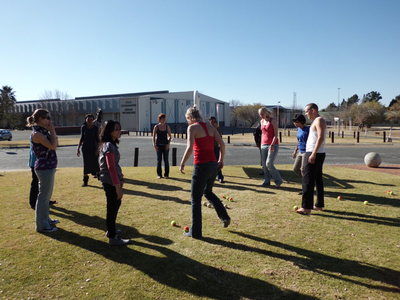 Sunday
Some of us went to churches in the morning and got a new experience. A friend from Indonesia said she went to a Pentecostal church and she found that it's very different. Another friend said she went to a church that uses English for the service but uses
Sutu
for the song. From a discussion during lunch, I knew that there aren't many Catholic churches in Bloemfontein and there isn't any mosque either.
After having lunch, we went to a field. The weather was so nice at that time. We could take off our winter jacket. Frank, a friend from Holland taught us some simple tricks on juggling. We also played some games. It was so much fun!
We actually should have had an excursion to a project on ecology and sustainable development at the university this Sunday. Since the plan eventually wasn't confirmed, we watched Avatar instead. We had a discussion, after watching the movie, about how the movie reflects on human and sustainable development. Nature is defined as something important since it is connected to human. When it's destroyed on behalf of development, the balance of living things might be ruined. What indigenous people believe about the existence of, for instance, ancestors or gods who live in a big tree, is still important in order to keep nature balanced and support ecological conservation. We will continue our discussion on this issue in tomorrow's class….hopefully it will be interesting as well.
Ambar Istiyani