Day 20: Come hungry leave happy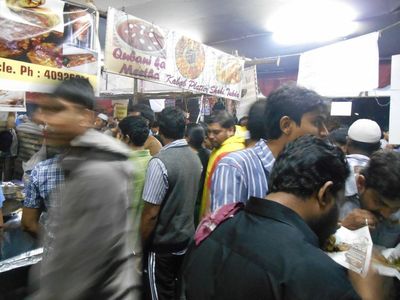 As Ismah mentioned in an earlier blog, this Monsoon School takes place during the time of Ramadan (/Ramazan as they call it here). This means a lot more than just 40 days of not eating and drinking whilst the sun is up. Apart from it's religious and spiritual dimension, it also means Iftar/ eating after sunset! During the Ramadan, there is a huge Food Festival on Mosque Road in Frazer town, Bangalore. Eating is something people from all backgrounds can enjoy, so on Saturday evening a few of us decided to go and "break the fast" during this Ramadan.
On our way there is was raining and we didn't speak much, I was feeling a bit carsick and the trip took 1.5 hours because of the distance and traffic jams, on top of that we were all really hungry, maybe even a bit hangry, that's the state you get in when you get angry because your hungry.
When we finally arrived, we got into the first group of food stalls, you can see it here in the video.
We were a bit hesitant in the beginning, because it was crowded, hot and sweaty and you had to struggle to order something. But we decided to at least give it a try... after the first bite there was no stopping us, we ate as if we really had all been fasting that day. We sampled bites of the most delicious chicken malai tikka, follow by chicken tandoori tikka, prawns, patthar gosht, mutton biryani, mutton tandoori pattie, seekh kabab, mishthi doi, lassi and we finished off with Irani chai. During the call for prayer/Azan, we expected people to go to the Mosque, but it remained just as crowded as before, the atmosphere was great, people united by their love for food. Afterwards, during our trip back to the training center we laughed and talked, being all happy and energized to go into unfortunately already our last week of the Monsoon School.

Jette van Ravesteyn is a Masters student studying at the University for Humanistics specializing in Critical Organization and Intervention Studies. During her masters she also spend time in Leipzig doing African Studies. After this Monsoon School she will finish her studies by writing a thesis on the body perception of victims of human trafficking with a West African background in the Netherlands.