Day 19: Linking theory to practice
Did you know? Pluralist Monsoon School students woke up exulting the previous evening having enjoyed the plural indigenous dishes prepared by students themselves.

Day 19 arrived and the fun was over. We were tasked with developing pluralism tool kits to make meaningful links between selected theories or sets of ideas and the University studies or the practice in our organizations. Each one of us developed and shared case studies based on our country contexts which linked selected pluralism theoretical frameworks encountered in past three weeks to inspire us rethink the social problem (case study). We also designed workshop mechanisms for delivering the tools.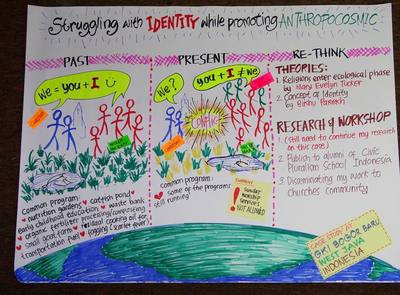 One of the toolkit presentations

We produced 16 interesting toolkits which reflected the diverse contexts and the connected social issues. The toolkits clearly demonstrated the differences and similarities in the contexts and the issues. We also recognized the priorities of the individual countries, the capabilities and the resources available, interconnectedness of the individual, social and humanistic identities, the pluralism and the cosmopolitanism. We also visualized the conflicts, and social injustices which were similar: discrimination, human rights abuses, organizational challenges, religious conflicts etc. theoretical frameworks on human rights, identities, pluralism effect, sustainable development were reflected.

The evening included a talk show video clip from a Uganda TV station where a Bi-sexual Gay activist discussed with religious leader: Pastor Sempa. This initiated a Pluralism discussion among the students on LGTBI rights and the challenges LGBTI freedoms comparing Holland experience with the contexts in Uganda.
Kayuki, Edwin Edward works as a specialist at the gender-based violence prevention program of the Interreligious Council of Uganda


The other toolkit presentations: