Day 18: Masterchef – Monsoon School Style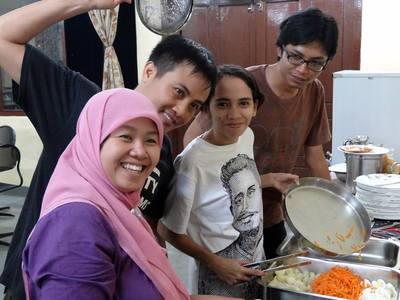 Dinnertime was special today. In a unique display of pluralism come to life, the participants presented an array of mouth watering delicacies special to their country or region. While the Indonesians prepared some lovely gado-gado (i am the biggest fan of the sweet peanut sauce) and mouth-watering kolak for desert, there were colourful juices accompanying the exotic sounding omukyeere omutokose, omugoyo, kasooli omufumbe and enva ze bijanjaalo by the Ugandans (i love the names almost as much as the dishes themselves!). The Dutch made some lovely pancakes and the most delicious apple pie, which we were still happily munching on the next day as well. The Indians made Mughlai chicken (Hasnain laboured over this from 4 pm onwards, with long-distance guidance from his sister, and I have it from good sources that it was heavenly –being vegetarian I couldn't taste it myself), pitika, which is a typical dish from the North-east and street food like papdi chaat and golgappe. We also had a special surprise of 'theplas' (a gujarati specialty) prepared by our teachers!

An account of the food prepared as above hides the real story – the utter madness of the preparation process! The Monsooners literally overtook the kitchen and dining hall, furiously chopping, grinding, mixing, washing, cooking, and rushing about with plentiful instructions for their fellow cooks, or with flashing cameras. How Mr. Mohan and the kitchen staff put up with our mayhem is beyond me – that they actually helped us speaks volumes about their patience and tolerance!!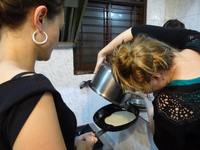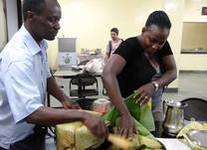 Even the real story above does not explain the true essence of the event – in one word, it was – FUN! With Justine playing the DJ of the day, there was a selection of dance music from around the world, keeping our feet thumping while our mouths chewed. Laughter filled the room above the sound of the music, and we taught each other typical dance steps from our own countries.

Of all the memories we carry back home from the Monsoon School, I am quite certain that our Pluralism Dinner will hold a special place for each of us. It was our own unique way of saying thank you to all the others, and of appreciating and celebrating our cultural diversity.

Vaneesha Jain is an Indian advocate by qualification, and a nomad at heart.