Day 16: (It hurts so much) to Face the Truth*
Last weekend we had an excursion to Johannesburg and Pretoria. Everybody seemed very excited about it. JC said we were going to Soweto in a guided tour, Constitution Hill, Apartheid Museum, Freedom Park and Vortrekker Museum. We began our journey on Friday July 22, 2011 at 9.30 AM. In the bus, I sat next to a girl, who worked for the UVS and just got a scholarship for her master in Poland this year. Her name is Tshego. She said, she would have never thought of leaving South Africa and live in another part of the globe for two years, until she received an email with the words "CONGRATULATIONS" written in bold and all capital letters. She must be really proud of herself. Then we had a long conversations about anything, mostly girl stuffs and even a bag of chutney flavor potato crisps and maize puffs. Not to forget teach her some knitting skills to keep up with the girls at the bus, because many girls looked very busy with their knitting projects.
It took us five hours until we reached Soweto (abbreviation of South Western Township), Johannesburg. First we went to Mandela House on 8115 Vilakazi Street, Orlando West, Soweto. The red brick house which stand in front of me used to be a place where Mandela & his family lived. Many of the tourist who came in here probably mesmerized with the Mandela image and his greatness, but I feel nothing special about it. The way they put up so many pictures of Winnie Mandela and Mandela's children, somehow told me that this place was supposed to be entitled "(Winnie) Mandela House". The museum's brochure in my hand confirmed my thoughts. It says that Nelson Mandela only spent a little time in the house, as his involvements in many movements of struggle and in 1961 he was living a life on the run until his arrest and imprisonment in 1962, and sentence to life imprisonment in 1964. Nelson Mandela returned to 8115 for a brief 11 days after his release from Robben Island in 1990.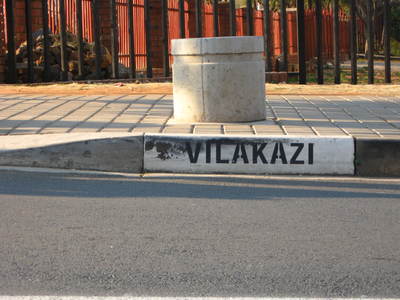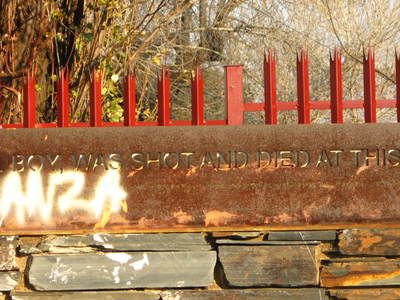 It is not the Mandela House that makes Vilakazi Street special, at least for me. As we walked down the Vilakazi Street, I vaguely heard the tour guide explained about The Soweto Uprising in June 16, 1976. There was a boy named Hector Pieterson, age of 13, shot by police in the long march right in the corner of the Vilakazi and Moema Street. While the other listened attentively to the guide's explanation, my eyes went straight to a contemporary statue across the street. It was made of iron depicting a policemen with a dog in his hands and a stick in the other hand. He's facing numerous people marching forward. I thought, this could be a post-modern (or whatever) artist interpretation of the student march in 1976.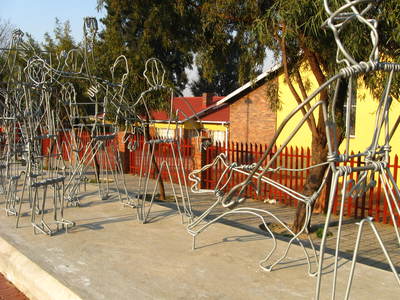 Thousands of students marched in the street of Soweto against the usage of Afrikaans as the instruction's language in their school, especially in mathematic/arithmetic and social studies. They could have other subject such as general science and practical subjects in English, but not for two subjects mentioned earlier. Why? Because the government argued that direct taxes paid by the black population of South Africa went to the various educational institution in homelands, but in urban areas the education fee is paid by white English and Afrikaans-spekaing community. That's why, to satisfy these tax payers, government has to ensure the usage of English and Afrikaans in school divided on 50-50 basis.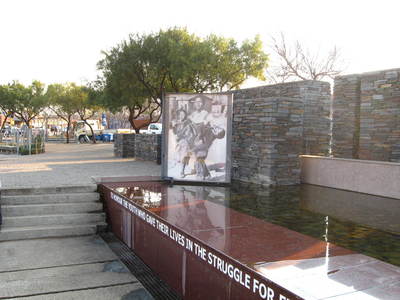 Later on, the tour guide lead us to go back to the bus and went to Hector Pieterson Memorial. I browsed through the exhibition, I saw this writing on the wall of a small, decorative waterfall, "To Honour the Youth Who Gave Their lives in Struggle for Freedom and Democracy." All of sudden, many questions gushed out of my mind. I remembered the students march back in May 12, 1998 in Jakarta, Indonesia, to bring down the former oppressive Indonesian president Soeharto and the New Order regime. We had students demonstration everywhere within weeks of May 1998. It reached its peak until the Trisakti Tragedy, Jakarta. Four students of Trisakti University were shot in the demonstration, right inside the campus. They were Elang Mulya Lesmana (a big fan of Radiohead, as I remembered from an interview with his girlfriend on the radio), Heri Hertanto, Hafidin Royan, and Hendriawan Sie, and not to forget to mention dozens of them who were injured from police beatings and tear gas. Many of them are still in their early twenties. The saddest thing is, large amount of dead students could not move the heart of the Indonesian government to commemorate them. Let alone to build a memorial for them, the case itself still left untouched. Many missing activists are still thought to have disappeared mysteriously, but all of us already knew what might have happened. They might had been kidnapped by the New Order regime because they were considered subversive to the government. I still remember when I walked to the school (I was in my first year in high school as it happened), I saw many posters on the wall with big question marks at the center, 9 missing activist pictures and "Where are they?" written in capital letters.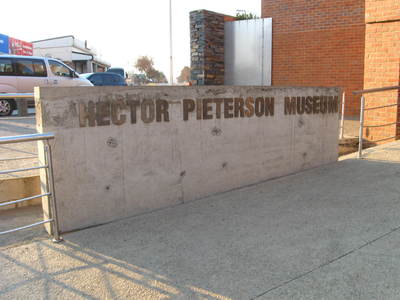 Hector Pieterson and Hastings Ndlovu might be lucky in this case compared to Elang Mulya Lesmana and other Trisakti students, because the government think they were important in South African's History. I am not saying that the Indonesian government is rather ignorant to this "small events" of Trisakti, but I found something that might be the case. They are not ready to face the truth or somebody to reveal the truth. Probably they were afraid this process would involve many top-rank people in the government and the one who revealed the truth might loose his comfort zone.
Here is a good quote from the exhibition:
"Whose stories should be remembered? Democracy calls for an ongoing process of commemorating shared memories and considering what others have to tell. We learn from the past and the present, and we learn about ourselves from the way we remember the past. The stories people tell about the past contribute to an understanding of who we are --of the identity of individuals and a nation-- in the present."
Later, on my way to the night pub and back, I passed the Mandela House for the third time, it was really quiet and it still felt the same.
Indriani Widiastuti
*) one of the title of Pet Shop Boys song