Day 14: Retrospection
We are in the bus..Pleasant weather, drizzle, passing through green pastures, grazing fields, marigold beds, murmuring brooks and all the bounty nature could provide. While I cast my glance through the window, I was in transcendence, a feeling that can only be felt…not expressed in black and white. Yes we were on our way back to the Law School leaving from the "Planters Court" (the guest house where we were lodged). After that refreshing trip to Chikamaglur District of West Coast (Karnataka), all I could do is romanticize and feel "Life is beautiful".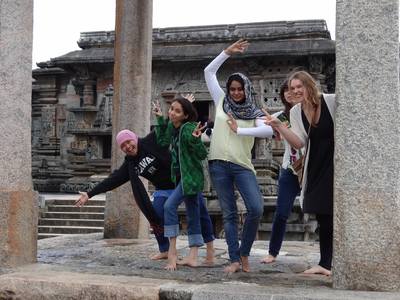 We visited a coffee estate, had beautiful meals with dear friends, visited the Baba Budan Giri Shrine, a common worshipping site for hindus and muslims in dattatreya hills of Karnataka. After the visit to the Baba Budan Giri on 27th of July, we had to do almost a jungle safari to enjoy the Lunch at the Giri resort near the Jhari Water Falls. Wow, it was really an exciting and wonderful experience. Still I wonder how the driver could drive the jeep down the slop in that narrow path on that rainy day. We had a scary ride till we reached the resort deep down: 'oooo, my heart almost came to my hands'! Next day, on 28th we started our journey back to Law School. We stopped at the Halebidu temple in Hassan District of Karnataka. Halebidu literally means "old city" and the temple in the middle of town is one of the best examples of Hoysala architecture. Hoysala is a prominent South Indian Empire that ruled Karnataka between 10th and 14th century. The temple is dedicated to Lord Shiva. I was mesmerized with the intricate works and the complicated sculptures .And the icing on the cake was the beautiful garden with tender blossoms that surrounded the temple and a living lake adjacent to it. We resumed the journey after spending an hour or so at the temple. After two hours of travel we stopped at a dhaba named "Kamat". All were famished. The preference was a meal rather than snacks. We were served typical Kannadiga style "Mini meal" on banana leaves. Yet another example of eco friendliness, the very essence of sustainable development on which I had to contribute in the group project!!.The mini meal turned out to be a major meal with so many items!! All in all I was romanticizing….proud to be an Indian.

Yet in some corner of my mind…I was struggling with the question: is secularism in India a reality or myth? Salman Rushdie was censored out of a literary fair in Jaipur (India) and was threatened with assassination. On the other hand 'Maha Kumbh Mela' a religious fair for the Hindus held every twelve years, is highly subsidized and prayers in public functions are funded. Do these practices "institutionalize" communal conflict? As long as causes of Gods and Goddesses are served in the public sphere can the secular nature as embodied in the Constitution continue or will it corrode and probably erode. In other words: Do fantasies require subsidy?
With hope to open up to different vantage points and create platforms of understanding, I finally realized that we already reached Law School. Exhausted, the contentment of having a productive and insightful excursion still in my mind I moved to my room, only to find out that the most favorite high tea was awaiting us. Thanks to the staff of the training centre. They are indeed so patient with us every time and although I can be 'hungry pig' they always take excellent care of me.

Mayashree Gharphalia is Phd Student in Human Rights at National Law University in Delhi. Now she is living in Dehli but she is originally from the north-eastern part of India called Assam. Apart from her work as a researcher she also a "learner" of Assamese Folk music, instruments and folklore.