Day 13: What do you see in the Dark?
Last year during December, I was in Johannesburg for vacation work. Myself, Hlumi, whose sister resides in Pretoria and one of our good friends, Xolisile, who has since moved to Johannesburg, decided to 'hook up' for the weekend. Saturday night, we were invited to a house party by friends of Xolisile (whom she met at the mall, briefly) who were in South Africa on training to be pilots. So off we went to Fourways (a suburb in Joburg), where they shared a flat. When we arrived at the flat, the building was dark. The friend (Dez from Zimbabwe), who was waiting for us at the gate told us that the electricity had been off since 4pm. He was not sure what time it would be back on. We entered the dark building, proceeding up the stairs and eventually got to 'their place'. I had all sorts of horrid ideas running through my mind, ideas of possible headlines the following morning in the Sunday World newspaper. Things like, 'Three bodies found in flat in Fourways', or 'MISSING: 3 GIRLS FROM THE UNIVERSITY OF FREE STATE'. Needless to say, I laughed at myself because Dez was babbling on about the darkness being a blessing in disguise: that way we could not see their 'decor' (or lack thereof). When we entered the living room, my eyes almost adjusted to the darkness, we found the rest of his flatmates talking. This room was even darker than the rest. We introduced ourselves, as did the four of them. We exchanged pleasantries and spoke about where we were from. Three of the guys originated from Zimbabwe and one from Sudan. The conversation sparked on in the dark, each one giving their own opinion about life, politics (Mugabe makes for good conversation), South Africans and their ignorance, Zimbabweans and their second home (Hillbrow in Joburg) and of course, how they knew about this training, but we (who live here) do not. More than an hour into the conversation, we were growing quite comfortable with each other and of course the darkness. One of the guys, who could not sit still for a second (much like Frank) was still telling a joke, when all of a sudden the lights turned back on, followed by the television. For a moment, we all just stared at one another, putting a face to the voice. An awkward silence filled the room, followed almost immediately by laughter. You see, the thing with darkness is that one can hide almost anything (smell and taste being the exception) in it. So in this darkness, one is free to make out your own ideas of what the other might be hiding. In this darkness, one can imagine the other without hair, brown eyes, broad shoulders, crooked teeth, tall, blonde, DD cup, huge ears, the list is endless. And whilst you sit in this darkness, imagining these features which make this voice, you learn about this person. You learn that even though he is from Zimbabwe, he is actually rich (well they say they are 'lucky'). You learn that he has three sisters and is the only son. That he is 17 years old. That he believes homosexuality is a 'trend'. Imagine Hlumis' response! I asked why they were training to be pilots in the dark and they had different reasons. One was that 'I just wanted to show my dad I can', another was 'military planes are my thing. I want to fight for my country.' When the lights were on, the conversation grew more superficial. We watched music videos and spoke more about what we saw on the set. But it was ok.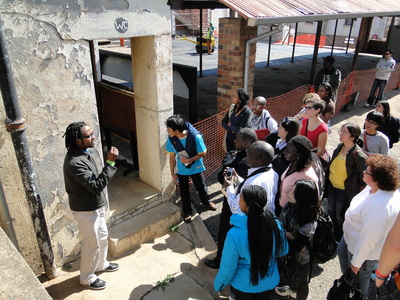 I wanted to write about reconciliation. I wanted to write about the past weekend, visiting all the historical sites which make South Africa what it is today. I wanted to explain why I see things the way I do. I wanted to say how I look at my community and sometimes feel the urge to uproot my house and relocate, to start afresh in another time far, far from now. When you are in the 'light', people see a different you based primarily on what they see. When I am at home, I am seen 'in light of' my studying, almost inspirational if you must. When I am here, at the university, I am seen as just another student trying to graduate. If we go into the physical, you will see that I am black, female, skinny (contrary to the prejudice about African woman), big lipped etc. If you know I am law student, you will probably assume that I am money driven. But, if we were to meet somewhere in a dark room, you will learn that I love music, that I have a big family, that I am sceptical about many things (trust), that I dream in Afrikaans sometimes, that I bought tickets to see Coldplay in October. What features would you ascribe to me then? Is it that we 'see' each other that we 'see' that we are more different than we are alike? Do I look at Danie Grobler and 'see' the video he was part of, or do I see him as a 'man' for his public apology in February? Do I look at the 'voortrekker monument' and see violence or glorification? Do I look at the Hector Peterson memorial and see victimisation? If I could meet myself in a dark place, what would I 'see'?

Phumzile Sokhela