Day 13: Sanity in the Wildness
Today was amazing experience! The journey to the mysterious Bababudangiri Dargah Temple/Shrine, a truly stunning fortress skilfully curved within the immortalized cave, was scary but with spectacular mountain climbing. The endless sharp corners of an apparently one-edged road kept the journey to the top of the mountain excitingly curious and terrifying. Shockingly, the Temple is hidden by its distant location off the road, the narrow-fenced stretch, as well as its fairly intimidating gate. But its ancient architecture is truly mind-boggling! To its credit, however, the Temple's mystic plurality keeps both the Hindu and Islam spiritualities together at peace in worship, despite their glaring differences. Thanks again to this pluralistic spirituality that humanity beyond the two traditions flocks the Temple for prayer, solace and wonderful celebration of nature!
The recent political interference that keeps both the Hindu and Islam off the reach of the ownership and management of the shrine was noted as a genuine community concern. In my opinion, however, this poses less spiritual significance since politics and spirituality are essentially incompatible. Drawing from Uganda's experience, about a century ago King Mwanga of famous Buganda Kingdom executed 35 Christian converts, 22 Roman Catholic and 13 Anglicans, with the rage of ending Christianity that challenged his traditional authority. Interestingly, this year about 3.5 million people from all over the world flocked Namugongo Catholic Martyrs Shrine alone, in celebration of Christianity and commemoration of the brevity and sainthood of the slain Martyrs. But even when viewed at the intellectual level, the spiritual belongs to the ancient idealist tradition, the political to the modern realist tradition. When "the current" political mood changes, as it often does, the ageless spiritual will certainly remain intact.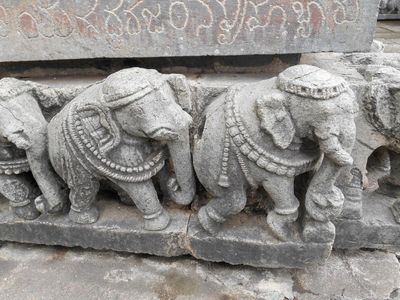 From Monsoon School perspective, the images of flourishing coffee plantations, the smooth road criss-crossing the steepy mountain, the magnificent waterfalls and its hospitable Agastya Wellness Centre, and the mystic plurality of the Temple were a rare spectre of an amicable embrace between nature, human development, and pluralism, the very concerns that lie at the heart of the Monsoon School. Despite the mean mist that limited our visibility, the sight of coffee growing happily within a "forest" of fairly-spaced trees with natural streams of freely-flowing water rearticulated, with amazing easiness, the vital balance between environment and development. Taken collectively, the development enterprise that is truly at peace with nature and the mystique pluralist spirituality were indeed a rare and amazing experience of real embrace of difference and sameness, of unity and diversity. Aesthetically, both aspects exuded the rich sense of sanity in the wilderness!
Denis is a lecturer at the Institute of Ethics and Development Studies at the Martyrs University in Uganda. He works there as an eductor, researcher and community service facilitator.