Registration
Fee and registration

The conference fee is €425,00 including lunch and farewell drinks.
The single day fee is €225,00.
The exclusive conference dinner in the Paushuize is not included in the conference fee. There are only 60 seats available at the rate of €75,00 each. Registration for dinner is possible during registration for the conference. When fully booked, registration for dinner will be closed.
Registration can be done through Paydro, an online registration system. Payment can only be done by means of creditcard (national and international) or online banking (Netherlands only). You will automatically receive your ticket and proof of payment, which you can use in your institution.

You can cancel your registration without cost before the 15th of January. After that cancellation is not possible.
After registration and finalization of the programme, we will ask you to select which panel session you prefer to attend. We will try to allot everyone a place in their preferred panel.
After selection you will be given access to the papers that are presented and discussed during the sessions.
Venue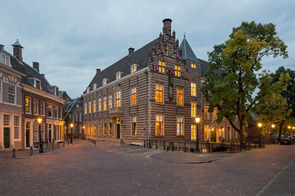 The conference will be held at the Paushuize (Papal House), which is one of the most historical and beautiful buildings in the old city centre of Utrecht, and the former residence of 16th century Dutch pope Adrianus VI. The building is a stones throw away from the University of Humanistic Studies, and just a 15 minutes walk from the Utrecht central train station, which itself is a 45 minute trainride away from Amsterdam Schiphol Airport. The Paushuize is located at Kromme Nieuwegracht 49, Utrecht.
Stay
Utrecht city offers many interesting possibilities to make your stay pleasant. This website will provide you with all the information.
With three hotels in the vicinity of the venue we have agreed on slightly reduced rates:
Apollo Hotel Utrecht can be booked by going to www.apollohotelsresorts.com, selecting Utrecht, and using booking code GF2026.
Court Hotel Utrecht can be booked at their own website using reservation code 2272 and mentioning Universiteit voor Humanistiek.
Contact
Mark Bos (program coördinator)
anniversaryconference@uvh.nl